Date: 15/10/19
Home security systems have changed for the better over recent years and the wide range of smart security products and different ways to secure your home ensure that there is something for every unique requirement.
At ERA we understand that one area that many people feel uncomfortable about is how to effectively install a home security system. That is why we give the option of simple to install, small and lightweight smart security products that can be installed easily at home in a DIY fashion. Browse the product list on our website and you'll find many different types of home security product that fit this category.
Some of our home security products, such as the DoorCam and other smart security items, are designed to be easy to use, but also incredibly easy to install in the first place and move to different locations without too much effort.
Alongside this however, we also continue to supply home security systems that can be installed by a professional, with our find an installer service providing peace of mind with every purchase. If you think you need an all-encompassing home security system, or maybe you want to change the locks and improve the front door security of your home, we can certainly help with that too.
If you would like to find out more information about our wide range of home security products and take advice on which items are easy to install on your own, in a DIY fashion, our friendly team are always happy to help. Contact us today on 01922 490 050 or help@erahomesecurity.com to find out more.

0 Comment
---
Blog Archives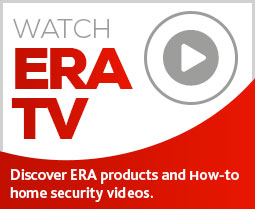 Subscribe to ERA news
Keep up to date with the latest home security news, products and updates with the ERA home Security newsletter.