Date: 09/10/19
ERA, the UK's leading home security specialist, has developed its Fab&Fix decorative hardware retail packs, ideal for builder's merchants.
The retail packs, enable merchants to now display the product either via the dedicated Fab&Fix merchandising units or via their own peg board display units, showcasing the full range. Designed so that the builder can see exactly what they're getting immediately, the packaging includes an explanation and a show window displaying the superb quality and matching finish, which is unrivalled by other suppliers.
Perfectly matching

Refusing to be just 'good enough', Fab&Fix does not accept that handles and hinges should come in different colours, so offers the industry's first set of perfectly matching, durable hardware – allowing the sleek and professional finish that customers are constantly demanding to be achieved.
With three decades of real-world testing and featuring truly matching products, the Fab&Fix range of decorative hardware incorporates four distinct lines: Classic, Heritage, Architectural and S-Series, thereby ensuring a co-ordinated finished look for any application.
Durable Hardex finish

The industry-renowned 'Hardex' surface finish technology is only available on the Fab&Fix range. This resilient coating has surpassed 1,000 hours of prohesion testing, making it one of the most durable finishes available. The range offers a ten-year complete peace of mind guarantee, which covers function, finish and also forms part of ERA's 'Total Security Guarantee'. This is the most comprehensive warranty on the market. If a property is protected by ERA's high security locks and hardware, the company guarantees to replace the homeowner's damaged window or door and pay out a cheque for £5,000 in the unlikely event that their security is compromised. This payout is further enhanced if the homeowner has an ERA intruder alarm fitted.
Tania Tams, head of marketing at ERA said, "When it comes to hardware, range is everything. Long gone are the days when homeowners would settle for mismatched handles and doorknockers – a coordinated set is now the baseline. Of course, some of our competitors can offer this, but only if the homeowner is happy with a choice of one handle, one letterplate and one knocker. Can you imagine consumers being offered a choice of one in any other sector? Builders merchants certainly know how to offer choice, they have fantastic selections of styles and colours - that's why so many have decided to complement their doors with Fab&Fix, the ultimate hardware range."
For further information on ERA's Fab&Fix range or wide range of security products, including its innovative smart home security suite, visit
www.eraeverywhere.com, contact the sales team on 01922 490 000 or email info@eraeverywhere.com
0 Comment
---
Blog Archives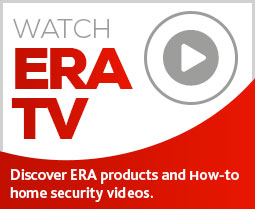 Subscribe to ERA news
Keep up to date with the latest home security news, products and updates with the ERA home Security newsletter.