Date: 11/11/19
The modern home is becoming smarter by the year. We can now control the heating and lighting in our homes via our smartphones, and the same can be said of many aspects of home security. At ERA we understand the importance of keeping up with the latest trends of smart technology and this can be seen in our wide array of smart home security products.
Whether you are searching for a full home alarm system, our TouchKey smart keyless lock, or a smart video doorbell, it is important to understand how it works for you, how it can connect with the rest of your smart appliances, and how it fits into your requirements for your home security.

We all want to have ease of use with whatever product we are using in the home, and when it comes to something as important as our home security, you want things to be simple in order to give you peace of mind that your home is as safe as it can be. That is why our smart home security products are designed to be simple to use, and simple to install.
You can connect your smart video doorbell to your over-arching home security alarm system, ensuring you have control at all times, and easy access to manage your home security.
If you would like to find out more about our services and the smart home security products we have available, contact the ERA team today on 01922 490 050 or email.
0 Comment
---
Blog Archives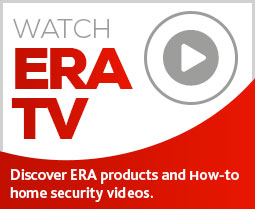 Subscribe to ERA news
Keep up to date with the latest home security news, products and updates with the ERA home Security newsletter.