Date: 23/07/19
Are you looking to add some security cameras to your home security? The modern range of home security products ensures that there has been a vast improvement in security cameras over recent years. Our team of home security experts have experience in helping our customers to not only choose the correct type of security camera for their specific needs and budgets, but to also offer advice on where best to place them.
It all depends on what your thoughts are on improving your home security systems and which type of products you might need to boost that security. Our team has expertise in all areas of home security, and it is with this knowledge that we help our customers evaluate their current home security systems and see where things can be improved.
Once you have taken a look at all aspects of your home you can begin to see potential weak points and vulnerabilities around the perimeter of the building where there could be areas that a burglar could target. Once you have these in mind you can begin to look at where best to place security cameras and other home security products.
If your home has outbuildings that store valuable items, cars, equipment, machinery etc. it is important that they are fully covered. Padlocks are a great option, but a camera overlooking the structure could also be the answer.
Modern smart doorbells with live HD quality video streaming and cloud-based storage allows you to also see who is at your front door at all times. This is the advantage of better technology in modern times, with a high-quality camera, and easily managed system through a smartphone app allowing for perfect placement of security cameras where it wasn't possible in the past.
For more information about our home security products contact ERA on 01922 490 050.

0 Comment
---
Blog Archives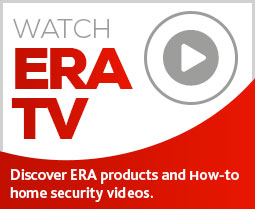 Subscribe to ERA news
Keep up to date with the latest home security news, products and updates with the ERA home Security newsletter.