Date: 23/01/14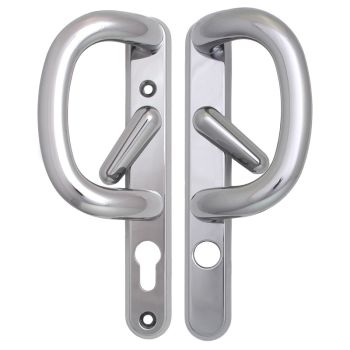 Sliders UK has joined forces with Fab & Fix to develop a stylish new, high security handle for its leading range of Duraflex, Eurocell and Synseal patio doors.
Created exclusively for Sliders, the new patio door handle incorporates several security upgrades that coordinate to make it one of the most innovative and attack resistant patio door handle available, providing customers with a useful selling features and complimenting Sliders' optional Secured by Design hardware solution.
Sliders' new handle is constructed from a robust zinc die-cast material and features built-in cylinder protection and a uniquely chamfered back plate that is 32mm wide to provide maximum stability and resistance to attack by Mole Grips or similar instruments used by would-be intruders.
The elegantly curved handle is designed for modern aesthetic, whilst retaining maximum grip for the user. The external keyhole acts as further guard as the cutout has been created especially so it conceals half the lock thus preventing the cylinder being attacked by drilling pins. Sliders' new handle also incorporates 6mm fixing screws, giving it far greater strength than the industry standard 5mm.
Available in white and black as standard, Sliders' exclusive new handle can also be coated in Fab & Fix's popular Hardex finish in either gold, satin or chrome. This finish has been salt spray tested to the highest British Standard and is proven to provide extreme corrosion resistance (BSEN 1670, Class Five).
In fact, Sliders' latest collaboration with Fab & Fix is due to the positive feedback the company has received from customers about the exceptional quality and reliability of this finish.
Ian Longbottom, Joint Managing Director of Sliders UK, explains: "We have already switched wholeheartedly to Fab & Fix's composite door furniture and also use its handles on our PVC and aluminium bi-folding doors, all of which are very popular with our customers. So when were looking to upgrade our patio door handles, Fab & Fix was a natural partner."
Sliders UK is the UK's largest manufacturer of patio doors, making over 350 units per week. Its patio doors were also the first to be accredited by the Secured by Design initiative. Sliders UK and Fab & Fix saw the opportunity to increase sales even further by working together and commissioning an exclusive handle to their joint specification.
Tom Freeman, Customer Experience Director of Fab & Fix, which is part of Grouphomesafe, concludes: "We enjoy working with Sliders UK as their design ethos matches our own. At Fab & Fix we only develop new products when it delivers a genuine improvement and we are very proud with what we've created with Sliders."
For more information about Fab & Fix, please visit their website at www.fabnfix.co.uk
0 Comment
---
Blog Archives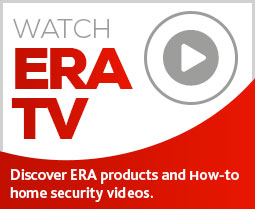 Subscribe to ERA news
Keep up to date with the latest home security news, products and updates with the ERA home Security newsletter.