Privacy Policy and Legal
PRIVACY NOTICE
Updated 30th March 2023
Introduction
This Privacy Notice explains in detail the types of personal data we may collect about you when you interact with us. It also explains how we'll store and handle that data, and keep it safe.
We know that there's a lot of information here, but we want you to be fully informed about your rights, and how ERA uses your data.
We hope the following sections will answer any questions you have but if not, please do get in touch with us.
It's likely that we'll need to update this Privacy Notice from time to time. We'll notify you of any significant changes, but you're welcome to come back and check it whenever you wish.
The law on data protection sets out a number of different reasons for which a company may collect and process your personal data, including:
Consent
In specific situations, we can collect and process your data with your consent.
For example, when you tick a box to receive email newsletters.
When collecting your personal data, we'll always make clear to you what categories of products you are opting in to receive information about and how you want to be contacted.
Contractual obligations
In certain circumstances, we need your personal data to comply with our contractual obligations.
For example, if you order an item from us, we'll collect your address details to deliver your purchase, and pass them to our courier.
If you have a credit account with us and an established price list, we may also need to use your contact details to alert you of any changes to your agreed contractual pricing.
Legal compliance
If the law requires us to, we may need to collect and process your data.
For example, we can pass on details of people involved in fraud or other criminal activity affecting the Partnership to law enforcement.
Legitimate interest
In specific situations, we require your data to pursue our legitimate interests in a way which might reasonably be expected as part of running our business and which does not materially impact your rights, freedom or interests. For example, we will use your purchase history to send you or make available personalised offers.
We also combine the shopping history of many customers to identify trends and ensure we can keep up with demand, or develop new products/services.
Which might reasonably be expected as part of running our business and which does not materially impact your rights, freedom or interests. For example, we will use your purchase history to send you or make available personalised offers.
We also combine the shopping history of many customers to identify trends and ensure we can keep up with demand, or develop new products/services.
We will also use your address details to send you direct marketing information by post or email, telling you about products and services that we think might interest you.
When might we collect your personal data?
When you visit any of our websites, and use your account to buy products and services
When you make an online purchase and check out by credit card (in which case we just collect transaction-based data).
When you register for an account with us.
When you purchase a product or service in store or by phone but don't have (or don't use) an account.
When you engage with us on social media.
When you download or install one of our apps.
When you contact us by any means with queries, complaints etc.
When you enter prize draws or competitions.
When you book any kind of appointment with us.
When we see you at an exhibition or show and you have shown an interest in our products
When you choose to complete any surveys we send you.
When you comment on or review our products and services.
When you've given a third party permission to share with us the information they hold about you.
We may collect data from publicly-available sources (such as Land Registry) when you have given your consent to share information or where the information is made public as a matter of law.
What sort of personal data do we collect?
If you have a web account with us: your name, invoicing &delivery address, orders and receipts, email and telephone number. For your security, we do not keep any record of your password but in the event you lose it, you can request for it to be reset.
Your email address from any of our app sign ups with your opt in/out preference
Details of your shopping history
Details of your visits to our websites and which site you came from to ours
Information gathered by the use of cookies in your web browser. Learn more about how we use cookies and similar technologies further down the page of this document.
To deliver the best possible web experience, we collect technical information about your internet connection and browser as well as the country and telephone code where your computer is located, the web pages viewed during your visit, the advertisements you clicked on, and any search terms you entered.
Your social media username, if you interact with us through those channels, to help us respond to your comments, questions or feedback.
Your address and contact details in relation to our Find an Installer Scheme
How and why do we use your personal data?
It is important to ERA that we give you the best possible customer experience and only contact you about relevant products or services we feel you may be interested in. We use data collected to offer you promotions, products and services that are most likely to interest you.
The data privacy law allows this as part of our legitimate interest in understanding our customers and providing the highest levels of service.
You can choose to change your preferences in how we contact you and what information we hold – See more in 'What are my rights?' Section below.
Remember, it is important to consider whether you truly want to opt out completely as doing so may mean we cannot provide all of the services or information you have asked for. Changing preferences is often a better way to manage contact, rather than opting out altogether. For example, if you've asked us to let you know when an item comes back into stock, we can't do that if you've withdrawn your general consent to hear from us.
Here's how we'll use your personal data and why:
To process any orders that you make by using our websites. If we don't collect your personal data during checkout, we won't be able to process your order and comply with our legal obligations.
For example, your details may need to be passed to a third party to supply or deliver the product or service that you ordered, and we may keep your details for a reasonable period afterward in order to fulfil any contractual obligations such as refunds, guarantees and so on.
To respond to your queries, refund requests and complaints. Handling your information enables us to respond. We may also keep a record of these to inform any future communication with us and to demonstrate how we communicated with you throughout. We do this on the basis of our contractual obligations to you, our legal obligations and our legitimate interests in providing you with the best service and understanding how we can improve our service based on your experience.
To protect our business and your account from fraud and other illegal activities. This includes using your personal data to maintain, update and safeguard your account. We'll also monitor your browsing activity with us to quickly identify and resolve any problems and protect the integrity of our websites. We'll do all of this as part of our legitimate interest.
For example, by checking your password when you log in and using automated monitoring of IP addresses to identify possible fraudulent log-ins from unexpected locations.
To process payments and to prevent fraudulent transactions. We do this on the basis of our legitimate business interests. This also helps to protect our customers from fraud.
With your consent, we will use your personal data, preferences and details of your transactions to keep you informed by email, web, text, post or telephone about relevant products and services including tailored special offers, discounts, promotions, events, competitions and so on.
Of course, you are free to opt out of hearing from us by any of these channels at any time.
To send you relevant, personalised communications by post in relation to updates, offers, services and products. We'll do this on the basis of our legitimate business interest.
You are free to opt out of hearing from us by post at any time.
To send you communications required by law or which are necessary to inform you about our changes to the services we provide you. For example, updates to this Privacy Notice, product recall notices, and legally required information relating to your orders. These service messages will not include any promotional content and do not require prior consent when sent by email or text message. If we do not use your personal data for these purposes, we would be unable to comply with our legal obligations.
To administer any of our prize draws or competitions which you enter, based on your consent given at the time of entering.
To develop, test and improve the systems, services and products we provide to you. We'll do this on the basis of our legitimate business interests.
For example, we'll record your browser's Session ID to help us understand more when you leave us online feedback about any problems you're having
To comply with our contractual or legal obligations to share data with law enforcement.
To send you survey and feedback requests to help improve our services. These messages will not include any promotional content and do not require prior consent when sent by email or text message. We have a legitimate interest to do so as this helps make our products or services more relevant to you.
Of course, you are free to opt out of receiving these requests from us at any time by updating your preferences which are accessible at the bottom of every marketing email or contacting us on: marketing@erahomesecurity.com and requesting to be removed.
To process your booking/appointment requests (for example with an installer). Sometimes, we'll need to share your details with a third party who is providing a service (such as delivery couriers or a fitter visiting your home). We do so to maintain our appointment with you. Without sharing your personal data, we'd be unable to fulfil your request.
To pass your details to the relevant ERA Installer – if you have opted for us to pass your details to them for them to contact you – or for us to contact you to check that your installer visit was successful and satisfactory, or to discuss any negative feedback you may have left on the schemes 'rate me' page.
How we protect your personal data?
We know how much data security matters to all our customers. With this in mind we will treat your data with the utmost care and take all appropriate steps to protect it.
We secure access to all transactional areas of our websites and apps.
Access to your personal data is password-protected, and sensitive data (such as payment card information) is secured by encryption.
We regularly monitor our system for possible vulnerabilities and attacks, and we carry out penetration testing to identify ways to further strengthen security.
Suppliers who receive your data from us for processing purposes, such as delivery companies, are also GDPR reviewed periodically to ensure their data is maintained appropriately under the same, strict access and storage conditions.
How long will we keep your personal data?
Whenever we collect or process your personal data, we'll only keep it for as long as is necessary for the purpose for which it was collected.
At the end of that retention period, your data will either be deleted completely or anonymised, for example by aggregation with other data so that it can be used in a non-identifiable way for statistical analysis and business planning.
Some examples of customer data retention periods:
Orders
When you place an order, we'll keep the personal data you give us for six years so we can comply with our legal and contractual obligations. In the case of certain products, such as British Standard Nightlatches where they have a 10yr Guarantee, we'll keep the data for 10 years.
Warranties
If your order included a warranty, the associated personal data will be kept until the end of the warranty period.
Marketing
For marketing purposes, your information will be maintained for 3 years following inactivity, or for as long as you are an active customer, or have opted in via preferences to continue receiving information.
Who do we share your personal data with?
We sometimes share your personal data with trusted third parties.
For example, delivery couriers, engineers visiting your home, for fraud management, or to handle complaints.
Here's the policy we apply to those organisations to keep your data safe and protect your privacy:
We provide only the information they need to perform their specific services.
They may only use your data for the exact purposes we specify in our contract with them.
We work closely with them to ensure that your privacy is respected and protected at all times.
If we stop using their services, any of your data held by them will either be deleted or rendered anonymous.
We have reviewed all GDPR policies to ensure their practices in storage and access of data are acceptable.
Examples of the kind of third parties we work with are:
IT companies who support our website and other business systems.
Operational companies such as delivery couriers.
Direct marketing companies who help us manage our electronic communications with you.
For fraud management, we may share information about fraudulent or potentially fraudulent
activity in our premises or systems. This may include sharing data about individuals with law enforcement bodies including Trading Standards where feedback relevant to a specific ERA Installer has been shared.
For further information please contact our Data Protection Officer at info@erahomesecurity.com
Where your personal data may be processed.
When transacting through our websites, by email or by telephone, your data is transacted and stored in the EU according to legislation. Any external suppliers are fully compliant with GDPR and internal systems are fully secure and protected.
For Smart Security registration data and cloud based storage of personal settings, video or image content, please refer to our separate Smart Security privacy policy.
Any transfer of your personal data will follow applicable laws and we will treat the information under the guiding principles of this Privacy Notice.
What are your rights over your personal data?
An Overview of your rights.
You have the right to request:
Access to the personal data we hold about you, free of charge in most cases.
The correction of your personal data when incorrect, out of date or incomplete.
For example, when you withdraw consent, or object and we have no legitimate overriding interest, or once the purpose for which we hold the data has come to an end (such as the end of a warranty).
That we stop using your personal data for direct marketing (either through specific channels, or all channels).
That we stop any consent-based processing of your personal data after you withdraw that consent.
Review by a Partner of any decision made based solely on automatic processing of your data (i.e. where no human has yet reviewed the outcome and criteria for the decision).
You have the right to request a copy of any information about you we hold at any time, and also to have that information corrected if it is inaccurate. To ask for your information, please contact Data Protection Officer, ERA, Valiant Way, Wolverhampton, WV9 5GB.
To ask for your personal information to be amended such as your name, or telephone number, please contact our Customer Services team or email info@erahomesecurity.com
To change your contact preferences for marketing emails, please click on the preferences link at the bottom of a previous email we have sent you and change the settings to your requirement, or email us on info@erahomesecurity.com
If we choose not to action your request we will explain to you the reasons for our refusal.

Your right to withdraw consent
Whenever you have given us your consent to use your personal data, you have the right to change your mind at any time and withdraw that consent.
In cases where we are processing your personal data on the basis of our legitimate interest, you can ask us to stop for reasons connected to your individual situation. We must then do so unless we believe we have a legitimate overriding reason to continue processing your personal data.

Direct marketing
You have the right to stop the use of your personal data for direct marketing activity through all channels, or selected channels. We must always comply with your request.
Checking your identity
To protect the confidentiality of your information, we will ask you to verify your identity before proceeding with any request you make under this Privacy Notice. If you have authorised a third party to submit a request on your behalf, we will ask them to prove they have your permission to act.
How can you stop the use of your personal data for direct marketing?
There are several ways you can stop direct marketing communications from us:
Click the 'unsubscribe' link in any email communication that we send you. We will then stop any further emails from that particular division.
In our apps, you can manage your preferences and opt out from one or all of the different push notifications by selecting or deselecting the relevant options when you register. Should you wish to opt out from contact, please unsubscribe in any emails you receive from us.
Write to our Marketing Department at ERA, Valiant Way, Wolverhampton, WV9 5GB or contact marketing@erahomesecurity.com
Please note that you may continue to receive communications for a short period after changing your preferences while our systems are fully updated.
Questions
We hope this Privacy Notice has been helpful in setting out the way we handle your personal data and your rights to control it. If you have any questions that haven't been covered, please contact our Data Protection Officer who will be pleased to help you:
Email us at info@erahomesecurity.com
Or write to us at Data Protection Officer, ERA, Valiant Way, Wolverhampton, WV9 5GB.
This notice was last updated on 30th March 2023.
COOKIE POLICY
Cookies are small text files that are placed on your computer by websites that you visit. They are widely used in order to make websites work, or work more efficiently, as well as to provide information to the owners of the site.
This website uses the following cookies:
Strictly Necessary cookies
2
| Cookie key | Domain | Path | Cookie type | Expiration | Description |
| --- | --- | --- | --- | --- | --- |
| PHPSESSID | www.erahomesecurity.com | / | First-party | Session | Cookie generated by applications based on the PHP language. This is a general purpose identifier used to maintain user session variables. It is normally a random generated number, how it is used can be specific to the site, but a good example is maintaining a logged-in status for a user between pages. |
| CookieScriptConsent | .erahomesecurity.com | / | First-party | 1 month | This cookie is used by Cookie-Script.com service to remember visitor cookie consent preferences. It is necessary for Cookie-Script.com cookie banner to work properly. |
Performance cookies
2
| Cookie key | Domain | Path | Cookie type | Expiration | Description |
| --- | --- | --- | --- | --- | --- |
| _ga | .erahomesecurity.com | / | First-party | 1 year 1 month | This cookie name is associated with Google Universal Analytics - which is a significant update to Google's more commonly used analytics service. This cookie is used to distinguish unique users by assigning a randomly generated number as a client identifier. It is included in each page request in a site and used to calculate visitor, session and campaign data for the sites analytics reports. |
| _gid | .erahomesecurity.com | / | First-party | 1 day | This cookie is set by Google Analytics. It stores and update a unique value for each page visited and is used to count and track pageviews. |
Targeting cookies
11
| Cookie key | Domain | Path | Cookie type | Expiration | Description |
| --- | --- | --- | --- | --- | --- |
| UserMatchHistory | .linkedin.com | / | Third-party | 1 month | This cookie is used to track visitors so that more relevant ads can be presented based on the visitor's preferences. |
| AnalyticsSyncHistory | .linkedin.com | / | Third-party | 1 month | Used to store information about the time a sync with the lms_analytics cookie took place for users in the Designated Countries |
| lidc | .linkedin.com | / | Third-party | 1 day | This is a Microsoft MSN 1st party cookie that ensures the proper functioning of this website. |
| bscookie | .www.linkedin.com | / | Third-party | 1 year | Used by the social networking service, LinkedIn, for tracking the use of embedded services. |
| ln_or | www.erahomesecurity.com | / | First-party | 1 day | Used by the social networking service, LinkedIn, for tracking the use of embedded services. |
| test_cookie | .doubleclick.net | / | Third-party | 15 minutes | This cookie is set by DoubleClick (which is owned by Google) to determine if the website visitor's browser supports cookies. |
| IDE | .doubleclick.net | / | Third-party | 1 year | This cookie is set by Doubleclick and carries out information about how the end user uses the website and any advertising that the end user may have seen before visiting the said website. |
| _fbp | .erahomesecurity.com | / | First-party | 3 months | Used by Meta to deliver a series of advertisement products such as real time bidding from third party advertisers |
| bcookie | .linkedin.com | / | Third-party | 1 year | This is a Microsoft MSN 1st party cookie for sharing the content of the website via social media. |
| li_gc | .linkedin.com | / | Third-party | 6 months | Used to store guest consent to the use of cookies for non-essential purposes |
| _gcl_au | .erahomesecurity.com | / | First-party | 3 months | Used by Google AdSense for experimenting with advertisement efficiency across websites using their services |
Functionality cookies
1
| Cookie key | Domain | Path | Cookie type | Expiration | Description |
| --- | --- | --- | --- | --- | --- |
| _dc_gtm_UA-53449029-5 | .erahomesecurity.com | / | First-party | 1 minute | This cookie is associated with sites using Google Tag Manager to load other scripts and code into a page. Where it is used it may be regarded as Strictly Necessary as without it, other scripts may not function correctly. The end of the name is a unique number which is also an identifier for an associated Google Analytics account. |
*These cookies are provided by a third party who could change their cookies in future outside of our control. We will review this policy regularly for any such changes.
Controlling cookies within your browser
Most web browsers allow some control of most cookies through the browser settings. To find out more about cookies, including how to see what cookies have been set and how to manage and delete them, visit www.allaboutcookies.org.

You can control the use of cookies within your browser settings.
SMART SECURITY PRIVACY POLICY
We at ERA are committed to protecting your privacy. Our goal is to provide you with a positive experience on our websites and when using our apps, products and services, while at the same time keeping your Personal Information, as defined below, secure. Our privacy practices are described below, as well as in separate notices given when an app, product or service is purchased or downloaded (our "Privacy Policy"). This Privacy Policy covers all ERA Products and ERA websites. By visiting ERA websites, using ERA Products or providing us with your Personal Information (as defined below), you unconditionally accept and consent to the practices, terms and conditions described in this Privacy Policy.
ERA wants to make our websites easy for you to navigate and our products easy for you to use. We are constantly improving the ERA websites and ERA Products to make them more user-friendly.
What Information is collected?
We collect the following personal and device information when visiting any of our site or using our products:
Personal & Account Information
Information you provide during device setup, such as your name, email address, phone number, the location of each device, and the number of people in your home.
If you are invited to create an account from the owner of an ERA product, we will collect your name and email address from that ERA user who invited you. Your phone number and other account details will be obtained directly from you during the setup process, if you accept the invitation.
Unique identifiers such as your user name and password.
Device Information
If audio and/or video is collected through the device, this data is stored securely on our servers to ensure you can access it and playback footage.
Environmental data from ERA's sensors, such as motion, air quality, humidity, temperature, and ambient light.
Device Information, such as model and serial number, physical network information (including IP address), device activity logs, and historic and current device configuration.
Information about your mobile device such as your mobile device ID (which is like a website IP address), device type, operating system, and mobile service carrier as well as your location.
How Do We Use Your Information?
We collect the information identified above and use it for the following purposes:
Provide you with services and improve the ERA Product functionality as well as the user experience.
To fulfil orders and process payments for the sale of products or services from our site.
Administer your account and back-up your data.
Record log entries for your information and troubleshooting issues with your device.
Send you notifications via the ERA HOMEGUARD app. (You can manage your notification preferences within the mobile app menu.)
Send you marketing communications, where permitted by applicable law.
To conduct research and analysis to better understand how users access and use our site and products, both on an aggregated and individualised basis, to improve our site, our products, create new features, provide you new offerings, respond to user preferences, and to protect your data.
Respond to your questions and concerns and provide customer support.
How Do We Share Your Information?
We will share certain categories of your information with third parties only in certain circumstances as described below:
Identifiable Information
Personally Identifiable Information (PII) is information that contains data that could be used to directly or indirectly identify you, like your name or email address. We only share this information under extremely limited circumstances. Primarily, this information is shared with third parties to provide you necessary services or to operate your ERA device(s). For example, this information is shared on a limited basis to assist in managing the computers that store your personal and device information and for third parties that assist us in providing you with customer support. These third parties are authorised to use your personal information only as necessary to provide these services to us.
Specifically, we may share this information as follows:
Affiliates. We may disclose the information we collect from you to our affiliates and subsidiaries that provide services or conduct data processing on our behalf, or for data centralisation and/or logistics purposes. If we do so, their use and disclosure of your personal information will be subject to this policy.
Service Providers. We may disclose the information we collect from you to third-party vendors, service providers, data storage facilities, contractors or agents who perform functions on our behalf (e.g. with vendors that help us with delivering products to you, vendors that help us maintain our site, or analytic providers).
In response to Legal process. We also may disclose the information we collect from you to comply with the law, a judicial proceeding, court order, or other legal process, such as in response to a court order or a subpoena. To the extent legally allowed, we will notify you of such requests prior to disclosing any information sought.
To protect us and others. We also may disclose the information we collect from you where we believe it is necessary to investigate, prevent, or take action regarding illegal activities, suspected fraud, situations involving potential threats to the safety of any person or violations of our terms of service or this policy.
Anonymised Information
We may share your aggregated and de-identified information, which is anonymised and does not identify you. We may use this information in a variety of ways, including to publish trends about energy use or home security, and to generally improve our offerings. We may also share this anonymised information with third parties for marketing, research, or similar purposes.
Information we share with your consent
We may share personally identifiable information with third parties provided we have received your consent to share that information. For example, you may opt to share certain information so it can be posted on your social media accounts like Facebook or Twitter, you may link your ERA account with another app, product or service, or you may opt into providing information to ERA's business partners to receive special offers. Information will never be shared for these purposes without your consent. Audio or video information is never shared with any third party for business or for marketing purposes.
Information Obtained from Third Parties
If you provide personal information about others or if others provide us with your information, we will only use that information for the specific reason for which it was intended for.
Cookies, Web Beacons and Other Web Tools
We use automatic data collection tools like cookies, embedded web links and widgets (collectively, "web tools"). These web tools collect certain information that your browser or your mobile device sends to ERA websites and ERA Products, such as a computer's IP address, browser type and service provider. In addition, ERA uses small pieces of code called web beacons, web beacons allow a website to transfer or collect information through a graphic image request. This allows ERA to collect information such as the address of the page you are visiting, the address of the referring page you previously visited, what browser or mobile device you are using and your display settings. ERA and its partners use web beacons, for example, to find out if advertising on ERA websites as well as other that contain ERA ads are effective, or if certain videos on the ERA websites or social media accounts are being viewed.
ERA may use web tools for the following purposes:
To identify the user's country and language to distinguish you from other users that visit the ERA websites.
To save your registration information for future use on ERA websites and services.
To allow customer surveys to appear or not appear to customers.
To optimize your browsing experience by preloading certain features of ERA websites and services on future visits to make loading times faster and more efficient.
To understand how you use and interact with ERA websites and services.
To customize and provide you with a more personal experience when visiting ERA websites, our advertising partners' websites or when using ERA Products.
To improve ERA websites and services in general.
To count visitors to ERA websites, social media accounts and products, and analyze website traffic, such as how many visitors have come to the ERA websites and/or social media accounts from advertisements or via advertising partner websites.
You have the following choices regarding ERA's use of web tools:
You may refuse to accept cookies by activating the appropriate setting on your browser or mobile device. However, many features of ERA websites and ERA Products may not work as intended if you disable cookies. Areas that require registration, authentication and store transactions on the ERA website will not be accessible.
Security
We strive to maintain reasonable administrative, technical and physical safeguards designed to protect the information collected by ERA websites and products. Unfortunately, the transmission of information via the Internet is not 100% secure. Although we will do our best to protect your personal information, we cannot guarantee its security; any transmission is at your own risk.
It is important to note that if you use a computer or device that can be accessed by others, other people may be able to access unencrypted personal information. If you do not want your information to be available to others, exercise caution when using public computers or devices or when using any computer or device to which users unauthorized by you may have access.
We recommend that you take every precaution in protecting your personal information when you are on the Internet. For example, change your passwords often, use a combination of letters, numbers and symbols when creating passwords and make sure you use a secure browser. You should also be aware that names that you give your Wi-Fi-enabled devices, home networks and services (also known as "friendly names") may be detectable by others outside your home, so you should not use personal information as part of your friendly names.
Updates and Upgrades
ERA Products may be updated or upgraded from time to time to provide additional features, address technical issues, and generally make your user experience better. Some ERA products may include an auto-update feature, which gives us the ability to make updates automatically. You can change auto-update options by changing your settings within the ERA Product account information where applicable. In very limited cases, updates may still be automatically applied, regardless of the auto-update setting. For example, we may provide an automatic update that prevents or fixes a security vulnerability or breach to your network.
Third Party and Social Media Linked Sites
ERA websites and online services may contain links to websites or online services operated by third parties. ERA Products may also use or offer products and services from third parties, such as a third-party app that works with ERA products. Once you leave ERA websites and ERA Products, your activities are governed by the terms of use and privacy policies of the third-party websites and online services. ERA is not responsible for the privacy practices or the content of these websites and online services, and we encourage you to carefully read the terms of use and privacy policies of any website and online service you visit.
ERA websites and products may contain social media features, such as Facebook "Like" buttons. These features may collect information about your device's IP address, set cookies to facilitate interaction with social media features or link you to a social media website where you may post personal information. All interactions with social media features are governed by the privacy policy of the social media company providing that feature.
Updates to this Privacy Policy
We may update this Privacy Policy from time to time, so please review it frequently. If we change our Privacy Policy, we will post the revised version here, with an updated revision date, as well as our APPs.
Controlling your personal information
You may choose to restrict the collection or use of your personal information in the following ways:
whenever you are asked to fill in a form on the website, look for the box that you can click to indicate that you do not want the information to be used by anybody for direct marketing purposes

if you have previously agreed to us using your personal information for direct marketing purposes, you may change your mind at any time by writing to or emailing us at

info@erahomesecurity.com
We will not sell, distribute or lease your personal information to third parties unless we have your permission or are required by law to do so. We may use your personal information to send you promotional information about third parties which we think you may find interesting if you tell us that you wish this to happen.
You may request details of personal information which we hold about you under the Data Protection Act 1998. A small fee will be payable. If you would like a copy of the information held on you please write to ERA, Valiant Way, Wolverhampton WV9 5GB.
If you believe that any information we are holding on you is incorrect or incomplete, please write to or email us as soon as possible, at the above address. We will promptly correct any information found to be incorrect.
Contact Us
Should you have any questions or concerns about this Privacy Policy, please contact us at info@erahomesecurity.com
Legal
Legal
Welcome to our website. If you continue to browse and use this website you are agreeing to comply with and be bound by the following terms and conditions of use, which together with our privacy policy govern ERA's relationship with you in relation to this website.
The term "ERA Expert" or "us" or "we" refers to the owner of the website whose registered office is ERA Home Security, Valiant Way, Wolverhampton WV9 5GB. The term "you" refers to the user or viewer of our website.
The use of this website is subject to the following terms of use:
The content of the pages of this website is for your general information and use only. It is subject to change without notice.
Neither we nor any third parties provide any warranty or guarantee as to the accuracy, timeliness, performance, completeness or suitability of the information and materials found or offered on this website for any particular purpose. You acknowledge that such information and materials may contain inaccuracies or errors and we expressly exclude liability for any such inaccuracies or errors to the fullest extent permitted by law.
Your use of any information or materials on this website is entirely at your own risk, for which we shall not be liable. It shall be your own responsibility to ensure that any products, services or information available through this website meet your specific requirements.
This website contains material which is owned by or licensed to us. This material includes, but is not limited to, the design, layout, look, appearance and graphics. Reproduction is prohibited other than in accordance with the copyright notice, which forms part of these terms and conditions.
All trade marks reproduced in this website which are not the property of, or licensed to, the operator are acknowledged on the website.
Unauthorised use of this website may give rise to a claim for damages and/or be a criminal offence.
From time to time this website may also include links to other websites. These links are provided for your convenience to provide further information. They do not signify that we endorse the website(s). We have no responsibility for the content of the linked website(s).
You may not create a link to this website from another website or document without ERA Expert's prior written consent.
Your use of this website and any dispute arising out of such use of the website is subject to the laws of England, Scotland and Wales.
Website disclaimer
The information contained in this website is for general information purposes only. The information is provided by ERA Expert and whilst we endeavor to keep the information up-to-date and correct, we make no representations or warranties of any kind, express or implied, about the completeness, accuracy, reliability, suitability or availability with respect to the website or the information, products, services, or related graphics contained on the website for any purpose. Any reliance you place on such information is therefore strictly at your own risk.
In no event will we be liable for any loss or damage including without limitation, indirect or consequential loss or damage, or any loss or damage whatsoever arising from loss of data or profits arising out of, or in connection with, the use of this website.
Through this website you are able to link to other websites which are not under the control of ERA Expert. We have no control over the nature, content and availability of those sites. The inclusion of any links does not necessarily imply a recommendation or endorse the views expressed within them.
Every effort is made to keep the website up and running smoothly. However, ERA Expert takes no responsibility for, and will not be liable for, the website being temporarily unavailable due to technical issues beyond our control.
Internet copyright notice
This website and its content is copyright of ERA Home Security. All rights reserved.
Any redistribution or reproduction of part or all of the contents in any form is prohibited other than the following:
you may print or download to a local hard disk extracts for your personal and non-commercial use only
you may copy the content to individual third parties for their personal use, but only if you acknowledge the website as the source of the material
You may not, except with our express written permission, distribute or commercially exploit the content. Nor may you transmit it or store it in any other website or other form of electronic retrieval system.
Security
We are committed to ensuring that your information is secure. In order to prevent unauthorised access or disclosure we have put in place suitable physical, electronic and managerial procedures to safeguard and secure the information we collect online.
Links to other websites
Our website may contain links to other websites of interest. However, once you have used these links to leave our site, you should note that we do not have any control over that other website. Therefore, we cannot be responsible for the protection and privacy of any information which you provide whilst visiting such sites and such sites are not governed by this privacy statement. You should exercise caution and look at the privacy statement applicable to the website in question.
ERA, Valiant Way, Wolverhampton WV9 5GB
Registered in England No. 02838541
Updated 14/07/2023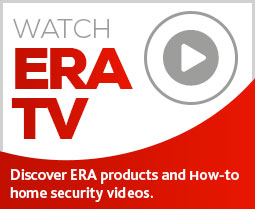 Subscribe to ERA news
Keep up to date with the latest home security news, products and updates with the ERA home Security newsletter.