Securing homes for the future
With over 175 years of manufacturing, design and innovation, ERA has been firmly at the heart of securing homes in the UK since 1838. As a one stop shop for all window and door solutions we are a partner who can offer you advice and technical recommendations to meet some of the challenges of home security across a range of houses with very different needs.
Product innovation starts with our design and technical teams. We engineer quality and performance into every piece of door and window hardware to create products with durability, ease of installation and functionality in mind to enhance the overall performance of a home.
From locks, handles and hinges to alarms and CCTV, our product range ensures together we can secure the future of homes across the UK.
At the cornerstone of the UK's hardware sector ERA continues to drive the innovation that underpins home security. We've been doing it since we made our first lock in 1838 and continue to do it today. Our job is simple - develop window and door hardware that stands out from the rest while giving registered providers clear benefits. This starts with designing a range of products that meet the needs of the end user. We ensure they conform to the latest standards not only in terms of their durability, functionality, corrosion resistance and security; but also longevity ensuring we think about the products whole life costs. Making sure products are value for money and customers are fully supported from initial specification through to purchase and after care; developing partnerships and working together.
Contact us today to deliver our expertise to you - one of our team will be in touch to offer practical advice to solve those security and maintenance problems. Please email jemma.booker@erahomesecurity.com to book a visit or take a look at ERA Everywhere to view our vast product range.
We have a number of downloadable documents for guidance below.
Security
ERA quick links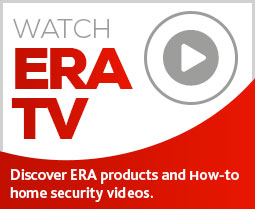 Subscribe to ERA news
Keep up to date with the latest home security news, products and updates with the ERA home Security newsletter.