ERA Valiant Smart Home Alarms Systems
ERA Valiant Wireless Solar Siren Alarm Kit

The ERA Valiant is a complete standalone alarm system that can also be used as an expansion pack for any ERA Wireless Control Panel Alarm System.
Totally Wireless, this alarm is a pet friendly system with a loud 110db external Solar Powered Siren and Strobe. The Siren has flashing comfort lights 24/7 to act as a visual deterrent. It is easy to extend at any time with the ERA range of accessories or can be used with any of the Alarm Kits to create a Smartphone Alarm Kit.
Features
Solar Siren
Compatible with ERA Wireless Alarm Systems
Solar charged - no mains power required
Charges even on overcast days
Intruder deterrent light - operates 24/7
110dB siren with selectable duration and volume control
Back-up battery included (45 day standby)
Weatherproof to IP55
Tamper protection
Pet Friendly PIR Sensor
Pet immunity <25kgs
Detection coverage: 8m/110°
Walk Test Mode
Low power LED indication
Batteries included
Tamper protection
Magnetic Door/Window Sensor
Coverage for primary entry/exit routes (doors and windows)
Low power LED indication
Batteries included
Tamper protection
Remote Control
Quick arm and disarm at the touch of a button
Part-arm function
SOS alert button for emergency use
---
You can build on your ERA Valiant Alarm kit by adding additional Siren/s and a wide range of accessories
Add additional 'Live' and/or Replica Sirens
Note: All sirens below (excluding the Replica Siren) can be used as stand-alone alarm systems when connected to Door/Window Sensors and PIR's
Extend Alarm System with additional accessories
Note: A maximum no. of accessories can be used per kit. For the ERA Valiant the maximum number of accessories is 40 Sensors and 10 Remote Controls
Security Products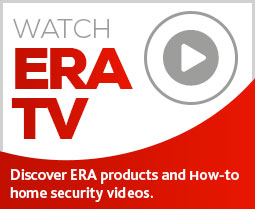 Subscribe to ERA news
Keep up to date with the latest home security news, products and updates with the ERA home Security newsletter.