Date: 13/02/20
Smart technology is changing the world, and we can see it very clearly in the area of home security solutions and how the market has changed in recent times. Now, we can control and manage our home security from any location, from our mobile phones, and with interconnection between multiple smart applications and devices.
Smart security has made everything easier, more cost effective, and more effective. Although it can be seen in all aspects of home security products, such as full home alarm systems and the like, you can see it most clearly and effectively in the front doorbell. Smart tech has completely changed the game for your front door security, taking a simple product and changing it into something else entirely (without losing its essence).
Smart technology now means that you can install a small video doorbell that is connected to your other home security products. What this means is that you can control all of your devices in one place, on your phone. Specifically, for a smart video doorbell, you have live access of a video feed from your front door at all times, no matter where you are in the world.
At ERA we have a range of smart home security products, including door cameras, touch keys, and all-round home alarm systems utilising smart technology.
If you would like to find out more about our services and the home security products we have available, contact the ERA team today on 01922 490 050 or email help@erahomesecurity.com.
0 Comment
---
Blog Archives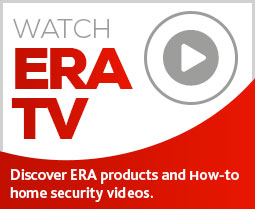 Subscribe to ERA news
Keep up to date with the latest home security news, products and updates with the ERA home Security newsletter.