What to do in an emergency
If your home has been broken in to through a door or window covered by the ERA Five Star Guarantee...
Immediately call the police
Report the crime and obtain a Crime Reference Number.
Contact your home contents insurance provider to report the incident and start the process of claiming for any lost or damaged possessions.
Call us to secure your property
Telephone our helpline on 0800 0833 442.
Someone is there to help 24 hours a day, 7 days a week.
They aim to be with you within 2 hours of your call to secure your property.
Report the incident and make a claim
Contact your installer, or call our Freephone claim line on 0800 0833 302 (during office hours) to report the incident to ERA Five Star.
We will then guide you through the next steps to make a claim. Please have your ERA Five Star Guarantee Registration Number handy (shown on your registration certificate).
We'll take it from there
Once reported, all claims are assessed by one of our highly skilled engineers.
They will visit your property to assess which elements of the window or door have been compromised during the break-in and arrange any next-steps.
ERA Five Star
ERA quick links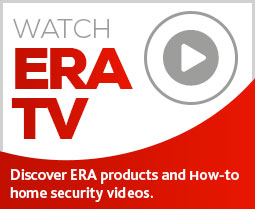 Subscribe to ERA news
Keep up to date with the latest home security news, products and updates with the ERA home Security newsletter.