Register your ERA Five Star Guarantee
If you've recently had new windows or doors installed that are covered by the ERA Five Star Guarantee, please register with us below. All of your details will be kept strictly confidential.Your windows and doors should have been fitted with our approved products if you're unsure please contact your installers for information.
Shortly after registering you will receive your ERA Five Star Homeowner Certificate by email, confirming your installation details and also your unique registration number.
Please keep this document safe; you will need it should you ever need to make a claim.
Homeowner Registration Form
By providing ERA with the information on the registration form you consent to us using and processing your personal and sensitive personal data and to our disclosing your data to Gallagher Legal Entity trading as Gallagher Trading Name ("Gallagher Entity"), an insurance intermediary. Gallagher Entity are registered under the Data Protection Act 1998 (the "Act").
Your information may be used by Gallagher Entity to offer you insurance products and also for research, statistical purposes and crime prevention. Your personal data may be transferred to any country, including countries outside the European Economic Area for any of these purposes and for systems administration. Gallagher Entity may disclose your personal and sensitive personal data to service providers we have retained to perform services on its behalf.
The Act entitles you to receive details of personal and/or sensitive data held about you. You have the right to apply for a copy of your information, for which we may charge an administration fee of £10, and to have any inaccuracies corrected. The information provided will be treated in confidence and in compliance with the Act. For the purposes of the Act, the Data Controller in relation to any personal data you supply is us, ERA legal company name.
Where you provide us with personal or sensitive personal information that relates to anyone other than you, you must obtain the explicit consent of the person to whom the information relates both to the disclosure of such information to us and its use by us as set out above.
ERA Five Star
ERA quick links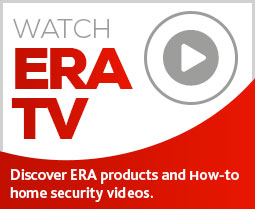 Subscribe to ERA news
Keep up to date with the latest home security news, products and updates with the ERA home Security newsletter.