Installers
At ERA we've been designing and manufacturing the door and window hardware that secures Britain's homes for over 175 years. With all that knowledge and experience built into our innovative products, ERA has become the expert's choice for high quality, reliable security solutions.
We are so confident about the performance of our products, that we offer the UK's most comprehensive home security guarantee, with benefits worth up to £5,000 if our components fail.
5 major benefits for your customers
Savings on the cost of home insurance
By choosing to fit windows and doors with the highest levels of security, your customers can save money on their home insurance, year after year. ERA's recommended insurance broker (and many others) recognise that having high security hardware on your doors and windows reduces the risk of forced entry - so they can reduce the homeowner's insurance premiums.
24/7 help after a break-in
By choosing windows or doors covered by the ERA Five Star Guarantee, your customers will be given access to a FREE call out service that operates 24 hours a day, 365 days a year. So they will have the reassurance of knowing that in the unlikely event of a forced entry through a guaranteed window or door, someone will come to secure their property.
Up to £1,000 home insurance excess paid
At ERA we are so confident of the quality and reliability of our components and the security provided by them, that we guarantee them against forced entry for 10 years. We will even pay the excess on any home insurance claim due to the failure of one of our products - so your customer can rest assured that they're covered.
Up to £1,000 towards a repair or replacement
Our research and development team are so confident that our latest products will outwit any would be burglars – that if the ERA Five Star Guarantee approved component has failed we will contribute up to £1,000 towards the cost of replacing or repairing the window or door.
A £1,000 cheque to compensate your customer
In the unlikely event of a break-in succeeding through the failure of a component covered by the ERA Five Star Guarantee the homeowner will be given a cheque for £1,000 to compensate them for the inconvenience caused.
ERA Five Star
ERA quick links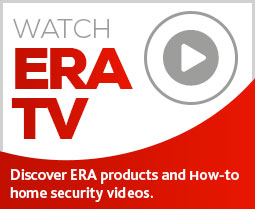 Subscribe to ERA news
Keep up to date with the latest home security news, products and updates with the ERA home Security newsletter.