Window Locks
Introduction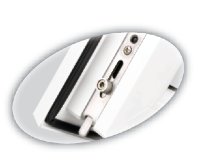 A typical lock used on casements PVCu window can incorporate a combination of locking points to secure the window to the frame.
These locking points give the window greater security and resistance to attack. It's important to be aware which lock you have so you can make a judgement whether you need additional security.
Generally most PVCu window locks are split into Espagnolette bars offering the lowest security to a more secure Espagnolette bar or locks with centre bolts and end shootbolts with greater locking points offering higher security.

ESPAGNOLETTE (ESPAG)
Window locking mechanism, consisting of a central gearbox and face bar, with locking points mounted to the face bar. The locking points can be in the form of roller or mushroom cams, or retractable or non-retractable hooks.
The level of security provided by espag systems can vary from basic to full security performance depending on the locking points.
SHOOTBOLT

Window locking mechanism, consisting of a central gearbox, face bar (sometimes hidden in the window) and shootbolt that extend outward from the top and bottom (or either side on top hung windows) of the window holding it tight to the frame.
Higher specification shoot bolt systems can also include mushroom cams. They may also incorporate a roller cam for pulling the sash into frame for optimum weathersealing.
TILT AND TURN
This style of window has different locks, handles and hinges to a traditional casement window as it has round the window locking points to allow it to operate in the unique way. There are several different types of tilt/turn window depending on how the window needs to operate - Turn before tilt, Tilt before turn, Tilt only or Turn only.
The most common of these is Tilt Before Turn (TBT). Utilising a TBT handle which can be locked preventing the sash moving to the open position making it safer for young children.
Key industry terms
LATCH
Latches are a feature of some shootbolt systems, and extend from the central gearbox as the handle is turned to engage the locking points.
Latches are usually available with a variety of extensions to suit the air gap requirements of individual window systems. (Note: a latch in this context is not sprung like the latch of a door lock, and extends only on the turn of a handle).
MUSHROOM & ROLLER CAMS
Rollers are often used for weathersealing on PVCu doors; and are a cylindrical shape. They generally also often an adjustment feature to enable the compression of the sash against the frame to achieve the appropriate weatherseal.
Mushrooms have an element that interlocks within its keep to provide separation resistance of the sash from the frame.
KEEP
The keep is fitted to the window frame and is where the moving locking bolts (hooks, rollers, mushrooms, shootbolts) lock into. Keeps can be cast zinc, or a combination of metallic and plastic components.
Keeps usually feature a chamfered (angled) entrance, to guide the cams into the final locking position gradually, reducing the closing force required.
NIGHT VENT
A facility by which the window can be locked in a partially open position, to provide increased ventilation. This is usually provided by a second locking position within the keeps.
Advice
ERA quick links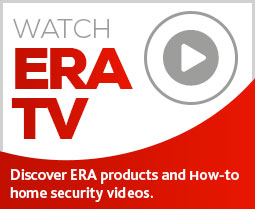 Subscribe to ERA news
Keep up to date with the latest home security news, products and updates with the ERA home Security newsletter.