New Home - New security - what to do next?
Introduction
It's incredibly exciting when you move house – but at ERA we recommend that before you even move your first box in – you change the locks.
It's incredibly simple and the cost is negligible if you add it into your 'home move' budget.
You may want to consider a FREE home security survey by an ERA Approved Partner. Available nationally, all ERA Approved Partners are members of the Master Locksmith Association (MLA) so are vetted, frequently inspected and qualified to advise on current home security standards. Not only that, MLA members are experts on broader issues such as how to ensure you and your family can escape in the event of an emergency – skills unique to a Master Locksmith. They will carry out a survey in your home for free so you can be confident that you have the best security possible. Click here for information.
Step 1: Change your door locks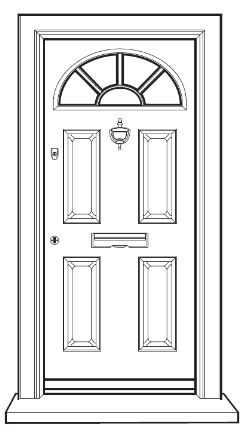 With PVCU doors the locks can be changed by just replacing the Euro Cylinder – please the 'How to' section of the website for information and a video on how to replace a cylinder.
If your door has a more traditional mortice lock and Nightlatch these can be also be easily changed – please see 'How to replace a Mortice Lock' and 'How to replace a Nightlatch Cylinder'
Most insurance companies require a mortice lock of BS3621:2004 standard or higher or equivalent Multi-point lock.
Where the door is not thick enough to take a mortice lock insurers require a high security Nightlatch such as ERA's BS Nightlatch.
Step 2: Additional security
No matter how good the locks on your door are it always good to take extra security measures ERA offer a number of options, door security bolts applied top and bottom can help dissipate any direct force applied to the door, also many thieves attack a door not on the lock side but on the hinge side here hinge bolts again fitted at the top and the bottom make removing the door from the hinge side much more difficult.
Step 3: Windows
ERA has a range to suit any window. These simple measures can significantly reduce the odds of you becoming a victim of burglary.
The results of the recent British Crime Survey clearly show that the odds of being burgled are significantly higher if you have no simple, yet visible security deterrents such as deadlocks on doors and window locks.
Step 4: Help and advice
The level of home security was the most important predictor of whether a household experienced burglary or not; 62% of homes that had been burgled didn't have window locks and 59% of burgled homes did not have a deadlock.

Easy to install high quality door and window locks can act as a real deterrent to burglars; people don't have to turn their homes into a fortress.
If you need any further advice on fitting or application or ERA locks please contact us using the 'ask the expert' feature of the website.
Advice
ERA quick links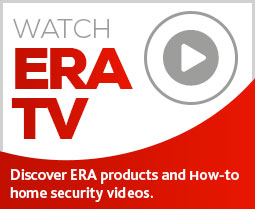 Subscribe to ERA news
Keep up to date with the latest home security news, products and updates with the ERA home Security newsletter.