Doors Security
With 175 years of experience in securing doors, we are perfectly placed to offer you help and support to ensure your doors have the very best security.
Whether you're buying new doors or upgrading your existing ones – this library of articles and videos will guide you to make the right choices or give you helpful advice to do it yourself. However if you do need any further help our Experts are on hand to answers your questions.
Customer Testimonials
Just to say a big thank you for your kind gesture. Am truly overwhelmed, as I intended swapping out the entire lock before your timely intervention. Once again thank you for adding credibility to your outstanding product. Shows your sincerity in the value of your services. Thank you.
I thought when you said you had put a replacement in the post, you meant a replacement bolt – not a whole unit! Many thanks for your kind attention. In this day and age, a welcome experience of terrific customer service. Well done ERA!
I would like to thank you very much for the trouble you have taken in answering my query on the door stays. Your efforts have been well beyond the norm, and I now have the information I need.
Bloody 'ell, if I may say so, what a superbly helpful and immediate response, Stuart. I shall see to it that none of my chums ever again buys anything other than an Era lock, if this is the helpful way you respond. Very many thanks!
What super after-sales service!! As a result my ERA deadlock is back in service for another 30+ years
So many thanks for a trouble free e-mail to fix my front door, there's not many companies out there with this sort of no nonsense back up, so very well done.
I would like to thank the staff at ERA for the excellent service they have provided. Thanks for the spot on advice when I had inadvertently disengaged the latch and locked the door. Against the backdrop of generally poor customer service these days, ERA stands out as a shining beacon of how to treat customers.
Advice
ERA quick links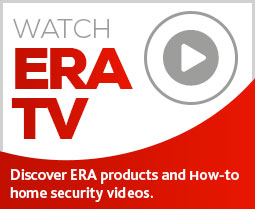 Subscribe to ERA news
Keep up to date with the latest home security news, products and updates with the ERA home Security newsletter.